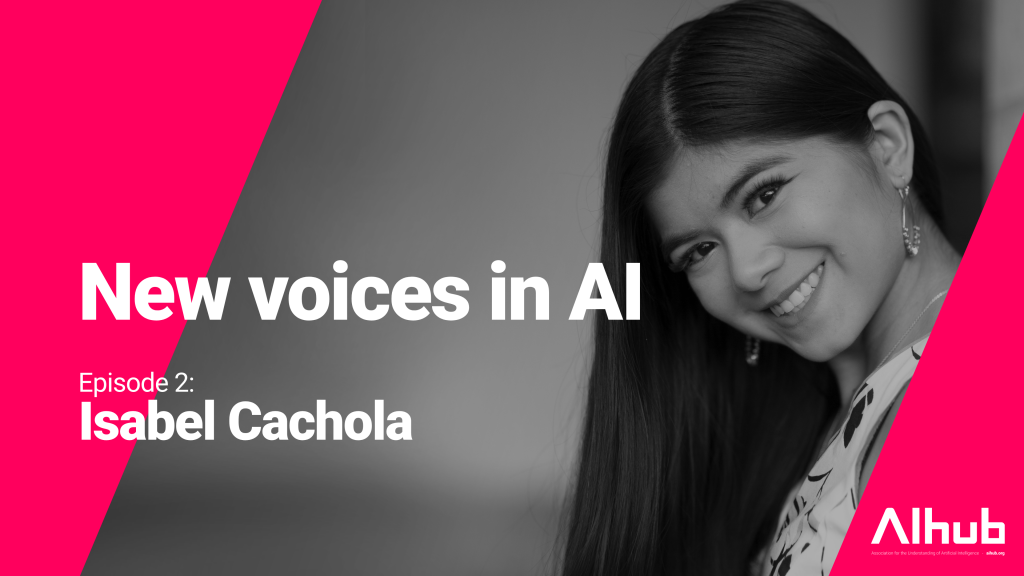 Welcome to the second episode of New voices in AI!
This episode features Isabel Cachola talking about how she got into AI and her work on interpretability of NLP models.
You can find out more on her website and follow her on Twitter, @isabelcachola
All episodes of New Voices in AI are available here here
The music used is 'Wholesome' by Kevin MacLeod, Licensed under Creative Commons
Transcript
Daly: Hello and welcome to the second episode of New Voices in AI, the new series from AI hub where we celebrate the voices of PhD students, early career researchers, and those with a new perspective on AI. I am Joe Daly, engagement manager for AI hub and in this episode I will be talking to Isabel Cachola. Without further ado, lets begin!
Daly: And brilliant and so yeah. First of all, thank you so much for joining us today for the second episode of New Voices in AI. And if you just introduce yourself, who are you? Where are you?
Cachola: Yeah, yeah yeah. So my name is Isabel Cachola. I'm a PhD student at Johns Hopkins University, so I'm currently in Baltimore, MD.
Daly: Nice nice, and how did you kind of get into AI?
Cachola: So I kind of fell into the field a little bit and had a little bit of a small snowball moment where once I got into it I just kept going. So my undergrad was actually in mathematics and my sophomore year of undergrad I did this program at my university where we could be mentored by a graduate student and because I was a sophomore in my fall semester, I had no idea what I wanted to do. So my mentor actually told me to just go on Wikipedia and look around till I found something interesting. So I stumbled upon computational linguistics. I thought it looked kind of cool, so I spent that semester just studying about machine translation and learning about some of the techniques, and I thought it was a lot of fun and really interesting.
So from there I took a class and then from that class I started getting involved in research and it was basically just like a snowball moment of this is really cool and I'm curious to learn more and I just kept going from there.
Daly: It's always kind of funny how it starts off as almost like an accident and then just like kind of keeps going and keep going.
Cachola: Yeah, yeah, I didn't even know my field existed when I started (haha)
Daly: So, what are you kind of working on currently?
Cachola: Yeah, so right now I'm working on interpretability of NLP models. Specifically in the clinical domain, so you know when we are working with these well performing models, even if they have really high accuracy, particularly in high risk settings like the clinical setting users really want to understand and know where these predictions are coming from in order to trust them. So I've been working on trying to understand, or trying to develop methods to better interprets these large, somewhat black box models.
Daly: That's it's like a really valuable work to understand what's kind of going on in there for sure. So how, has has kind of, I guess your previous life experience and kind of influenced your work?
Cachola: Yeah, so I grew up in a trilingual household. My mother speaks Spanish and my dad speaks Tagalog. And then on top of that, I also grew up in the military, so we moved around a lot and I was exposed to a lot of different cultures growing up. So I think that like the combination of those things really gave me a lot of interest in language and how people communicate. And you know, math and computer science has always been a field of interest to me, so when I found out that I could sort of combine my interest in language with my interest in math and computer science, it was like the perfect field.
Daly: Yeah, it's like pretty serendipitous to find something that combines everything.
Cachola: Yeah, exactly.
Daly: Yeah, and so what kinds of things that you would like to work on in the future?
Cachola: So I've been really interested lately in question answering tasks. So given a question, can we have a model that automatically answers that for you? So particularly, I've been interested in looking at news data and can we use this large wealth of information we have from the news to answer some common questions that people may have. So I think that that's probably the direction that my research is going to be going in next.
Daly: And what do you think are some of the biggest challenges and or kind of opportunities in AI?
Cachola: Yeah, so I think that a question that the field has been asking itself recently is particularly around like how can we ethically produce, produce and release these models and that's from anywhere from looking at the data that we're using. Making sure that that data has been ethically gathered and that it is representative and not, you know, skewing or biasing in any way that could be harmful also to the actual models themselves and making sure that we're not baking in potential harm into our models. So I think that this is something that the field and the community has been thinking about a lot recently and yeah, so I think that that's going to be an important, but challenge, an important challenge for the field and coming up.
Daly: Yeah, absolutely. When when you're dealing with like so much data out there, it's like making sure you collect it ethically I think and don't do any kind of an intentional harm, as well, that's a massive thing.
Cachola: Yeah, exactly.
Daly: And and kind of Speaking of challenges. So we've kind of got to the the question from our previous new voice in AI and so David asked, what challenges have you kind of had to overcome, and how did you achieve results in the end?
Cachola: Challenges I've had to overcome. Uhm, so I think that's because I actually didn't learn how to code until I started undergrad, and I sort of started learning how to code separately of my of my interest in the field. And then, you know, they sort of merged together so part of the challenge has been. So I I think playing catch up a little bit with my peers and and gaining some background on more of the technical side of our work. But I think that's also been really a really fun part and it's definitely given me perspective in terms of like the different backgrounds that people in our field come from, because I I think that our field. Is very interdisciplinary, so it's it's good to, you know, work with people who have different perspectives and you know for me to see like what that's like.
Daly: Yeah, absolutely. It's it definitely draws on so many areas. And what would you like to ask the next interview in this series?
Cachola: Uhm, so I think that AI is pretty broad and there's a lot of different subfields that people work on within within AI, so I'd be curious to ask the next person what about their specific subfield they find interesting or intriguing to them?
Daly: That's a really great question. That's really great. And cool. And finally, where can people kind of find out more about your work? Where can they follow you?
Cachola: Yeah, so they can check out my website it's isabelcachola.com. You can also follow me on Twitter at @isabelcachola
Daly: Brilliant and we will also have that information somewhere on the page as well so you don't have to memorize that from just the video. And yeah, those are really brilliant answers, thank you so much for joining yesterday and yeah, thanks again.
Cachola: Yeah, thank you so much for having me.
Daly: And finally I would like to thank you for listening to us today, join us for the next episode where we talk to Tanja Kaiser about her research. If you would like to find out more about the series, do check us out at AIhub.org and goodbye for now.
tags:
#newvoicesinAI
---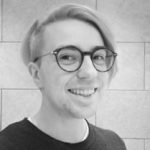 Joe Daly
Engagement Manager for AIhub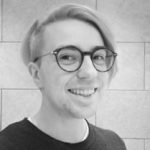 Joe Daly Engagement Manager for AIhub